All facials are custom designed to your specific skin care needs utilizing high end professional skin care cosmeceuticals by Rhonda Allison. Based upon your skin analysis I will choose the appropriate products to be used during your facial. I not only want you to have an amazing facial but I also want you to leave seeing and feeling the results.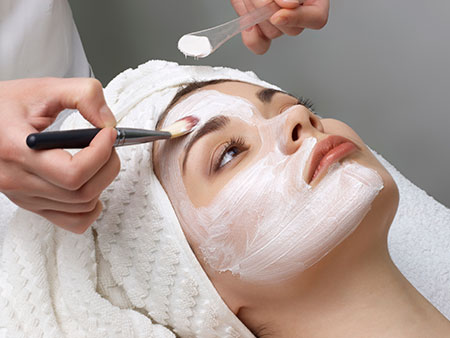 Facials
Express
A quick Las Vegas facial designed for those short on time. While not a complete fix this brief facial is perfect for a quick pick me up. A no-nonsense facial which includes skin analysis, cleansing, exfoliation, mask, toner and moisturizer. Does not include extractions.
30 Min $65
The Basic
Deep cleansing is the basis of any skin care regime. This Basic Facial consists of a thorough cleansing and is followed by a pore softener combined with heat preparing the skin for gentle extractions. Next a soothing mask calms the skin and minimizes pores. A finishing toner and moisturizer complete the process leaving your skin feeling radiant and fresh.
45 Min $95
Acne Facial
Acne is a condition that plagues all ages. The Acne Facial incorporates products designed to battle acne, clear impacted pores and soothe irritation. For optimum results a series of weekly treatments are recommended. As the skin clears, a regular maintenance program will help to keep the skin calm and blemish free.
60 Min $110
Ultimate Hydration
This Las Vegas facial provides intense hydration to feed and nourish the skin combining The Basic Facial with the Hydrating Facial resulting in smooth, plump and youthful looking skin.
60 Min $120
Vitamin C Renewal
Designed to even skin tone while firming and plumping the skin. Baby boomers with sun damage will find this facial to be the perfect antidote. This facial combines with The Basic Facial giving you a healthy, youthful glow.
60 min $110
Firming Facial
A wonderful firming and toning facial, reducing wrinkles and hydrating the skin. Combining The Basic Facial with antioxidants your skin is infused with valuable vitamins which strengthen the skin, reversing the signs of aging.
60 Min $110
De-Stress Me
Escape with this Aromatherapy Facial which combines perfectly with The Basic Facial. Soothe, rejuvenate and nourish your skin with with euphoric aromas using organic essential oils.
60 Min $120
AGE less Facial
Introducing the new AGE less facial! The perfect facial for all ages and skin types.Glycation is a process which is caused by the presence of excess glucose in skin fibers. This excess triggers an internal reaction in which sugar molecules adhere to the collagen and elastin proteins which normally help keep skin firm and supple. The AGE less powerful serum addresses the negative effects of glycation and brightens the tone for a vibrant and luminous look.
60 Min $120
Stem Cell Facial
As you age, your skin produces less cytokines and growth factors, and therefore less of the important rejuvenating components your skin needs to maintain it's appearance. Scientists have developed a process to isolate these potent rejuvenating factors from human stem cells. By resupplying your skin with these powerful missing factors which promote cell renewal, boosts the production of collagen and elastin, restores aging skin, helps with scars, helps with hyperpigmentation, and ultimately provides you with more youthful looking skin.
60 Min $150
Microdermabrasion
Microdermabrasion can be used to diminish sun damage, minimize fine lines and wrinkles, reducing the appearance of stretch marks, age spots, pigmentation disorders, enlarged pores and decreases the appearance of scars. Overall giving a renewed fresh skin tone. I utilize a medical grade diamond tip crystal free microdermabrasion machine. If you cannot tolerate acids microdermabrasion would be perfect for you.
Mini Microdermabrasion
For those short on time this quick Exfoliating Facial will give the skin a wonderful, healthy glow while minimizing fine lines and wrinkles.
30 Min $85
Peels
Periodic peeling of the skin stimulating cellular activity used for anti-aging, age spots, pigmentation disorders, acne, enlarged pores, fine lines and wrinkles, stimulating collagen and elastin, oxygenating the skin, increasing antioxidants, firming and hydrating which all improve the overall appearance of the skin. Rhonda Allison acids and enzymes are incorporated in these treatments tailored to your specific skin type and condition.
Pumpkin Regeneration
Vitamin A, Beta Carotene and zinc provide important antioxidants to combat aging.
60 Min $115
Cherry Enzyme Rejuvenator
This clinical enzyme drives valuable nutrients and antioxidants deep into the skin.
60 Min $115
Skin Brightening Enzyme
The blending of active enzymes combined with Salicylic Acid, Kojic Acid, L-Arbutin, Azelaic Acid creates a powerful facial that is perfect for skin with discoloration concerns.
60 Min $115
Maui Peel
Lactic Acid combined with Pineapple Enzymes create a deeply hydrating and skin brightening treatment.
60 Min $125
Bromelain Enzyme
Salycylic Acid combined with Pineapple Enzymes create a highly regenerating, antiseptic treatment which results in smooth, blemish free skin.
60 Min $125
Progressive Peels
Progressive Peels are mild treatments that result in minimal or no exfoliation. These peels are excellent "lead-ins" to Mid-Depth peels and are a valuable maintenance tool for a variety of skin conditions. Pricing varies depending on layers used.
45 Min $115 – $135
Mid-Depth Peels
These peels affect the intra-epidermal layer and exfoliation occurs within 2-3 days after application. Peeling consists of light flaking similar to a sunburn. Pricing varies depending on layers used.
45 Min $160
Deep Peels
Deep peels are safe, superficial peels that generate excessive peeling for 2-3 days and the entire process is generally completed within 7-10 days. These peels produce significant cellular turnover and correction. Pricing varies depending on layers used.
45 Min $235
Post Peel Facial
The Post Peel Facial removes residual, flaking skin with gentle enzymes. Nourishing serums and a calming mask leave the skin soft, smooth, hydrated and glowing.
45 Min $75